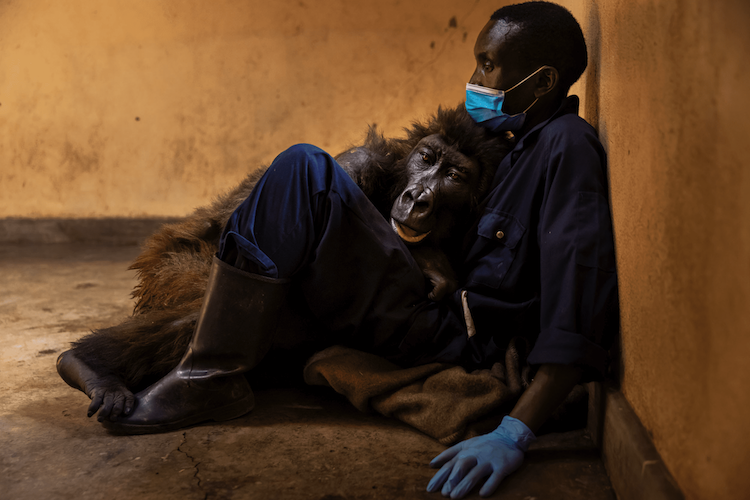 The planet has lost one more vivid light with the demise of orphaned mountain gorilla Ndakasi. Ndakasi, who had lived at Virunga Nationwide Park in the Democratic Republic of Congo considering the fact that she was 2 months old, shot to fame in 2019 when her "selfie" with a park ranger went viral. Immediately after a prolonged sickness that progressed rapidly, she handed away in the arms of her pricey buddy and long-time caretaker Andre Bauma at the close of September 2021.
It was a whole-circle minute for the duo, who satisfied as quickly as Ndakasi was rescued in 2007. She was just 2 months outdated when she was discovered by Virunga rangers clinging to the lifeless body of her mother, who had been killed by an armed militia. The rangers brought her to protection and it was Andre who stayed with her the entire night. Holding her near to his upper body for warmth, that was the instant their bond started. It's a bond that continued up till Ndakasi's past breath.
Ndakasi, who lived with other orphaned mountain gorillas at the park's Senkwekwe Heart, was whole of daily life and appeal. Her sweet character was captured in documentaries and, in 2019, she went world-wide. Her "selfie" was shared on Earth Day and turned a feeling. In the image, she's seen standing with her gorilla good friend Ndeze and smiling at the digicam as park ranger Mathieu Shamavu snapped the photograph.
With her dying, Ndakasi reminds us how significant it is to secure Virunga's mountain gorillas. Fortuitously, considering that she was orphaned, significant protection actions have been taken and the park can now say that the its population has developed by 47% because 2007. Continue to, when just one appears to be at the heartbreaking picture of Ndakasi and Andre as she's passing to the other aspect, it is really difficult not to be reminded of how valuable everyday living is.
"It was Ndakasi's sweet character and intelligence that served me to fully grasp the connection amongst individuals and Great Apes and why we should really do every thing in our ability to safeguard them," stated Andre in a geared up assertion. "I am happy to have referred to as Ndakasi my good friend. I liked her like a youngster and her cheerful character introduced a smile to my deal with every single time I interacted with her. She will be missed by all of us at Virunga but we are permanently grateful for the richness Ndakasi introduced to our life in the course of her time at Senkwekwe."
If you are intrigued in encouraging aid the do the job they are accomplishing at the Senkwekwe Center and Virunga Countrywide Park, they are accepting donations in Ndakasi's memory.
Ndakasi was an orphaned mountain gorilla who lived in the Virunga National Park in the Democratic Republic of Congo.